Episodes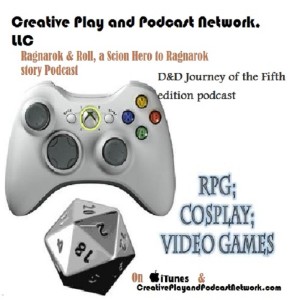 Thursday Sep 06, 2018
Thursday Sep 06, 2018
#RPGADAY2018 AUGUST 24th WHICH RPG DO YOU THINK DESERVES GREATER RECOGNITION
https://www.drivethrurpg.com/product/178175/Era-Survival--Quickstart-Guide?affiliate_id=49631
Humanity battles for survival in the dangerous world of Gaia, where Infection and Mutation are a daily threat. Organising itself into factions with different ideas about how to best survive the dangerous world they inhabit, they clash with each other as often as Infected.
This Quickstart Guide contains a cut-down version of the rules and a single adventure. It's intended to display the rule set for anyone considering getting the game.
------------------------------------------------------------------------------------------------
Details about the Rules:
The Era d10 ruleset is designed to allow you to experience this universe in a way that is as unobtrusive as possible without being misrepresentative. By choosing your skills carefully, your character can dominate in any of 5 forms of combat, talk their way out of any situation or protect their teammates from harm.
The rules could be described as "A Success-counting dice pool system where you roll Attribute + Skill in d10s and the difficulty of the task determines which numbers count as Successes."
In case that was a bit too brief or jargony, here's a bit more detail:
The system is based around multiple dice - the more skilled you are, the more dice you have - and a variable goal based on activity difficulty.
Using an Attribute and Skill system, which each define their own areas of influence, you roll your dice depending on what you're attempting - whether Dexterity + Engineering for a precision piece of work, Intelligence + Engineering for a more theoretical problem or Luck + Engineering for a complete long shot, you'll be able to adapt to your circumstances and focus on your strengths.
Although you roll more dice the more skilled you are, the number you are attempting to reach varies depending on the difficulty of the action - if shooting someone in clear conditions, the GM would ask for a 7. If someone was laying a mine, more likely a 6. Firing over your shoulder at someone 30 metres away, while crouching behind a low wall would definitely be a 10!
Learn more about RPGaDay here: http://creativeplayandpodcastnetwork.com/its-almost-that-time-again-for-rpgaday/
Check out our #RPGaDay2017 and #RPGaDay2016 episodes here!
Keep an eye out on our Patreon page: https://www.patreon.com/cppn Follow along on Facebook at https://www.facebook.com/CreativePlayandPodcastNetwork/
And Twitch at https://www.twitch.tv/creativeplayandpodcast